Script will be here, coming soon.
Show Venue
East Midwood Jewish Center
1625 Ocean Avenue, Brooklyn, NY 11230
Subway: Q train to Avenue J or Avenue M.
Bus: B49 or B9.
Rehearsals
These are important!

If you cannot come or will be late, please let us know.
Sunday, March 24, 12:30-7pm
Wednesday, March 27, 3-11pm
Performances
( less intense preview show)
Thursday, March 28
Call time: 2:30pm
Doors 7:30pm
Show 8:00pm
( big party show, with bands between acts.
goes until late)
Saturday, March 30
Call time: 3pm
Doors at 8pm
Show at 8:30pm g
(Kids' Carnival)
Sunday, March 30
Call time: 2pm
Perform: TBD but probably around 4ish.
Hour of Power (one big cleanup push): 5-6pm
Banya: after that!
If you have more time during show week and want to help with other show-related setup tasks, we would love to have you! Here is the detailed schedule.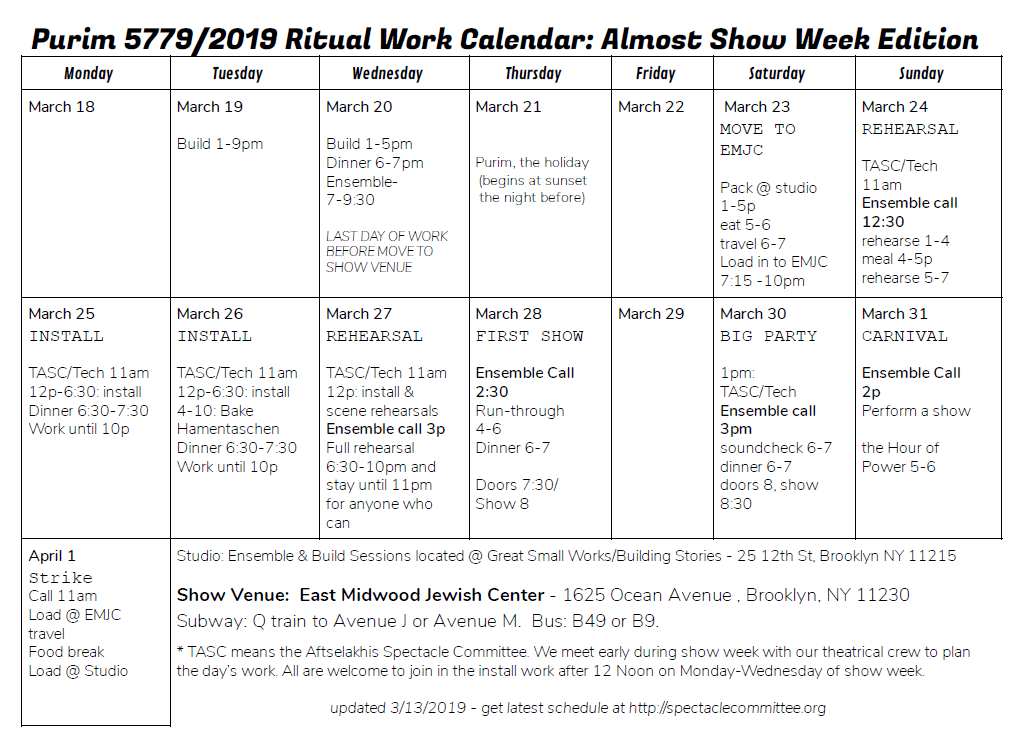 Or gila
Or gila, or gila et mikra hamegila
אוֹר גִּילָה, אוֹר גִּילָה עֵת מִקְרָא הַמְּגִלָּה